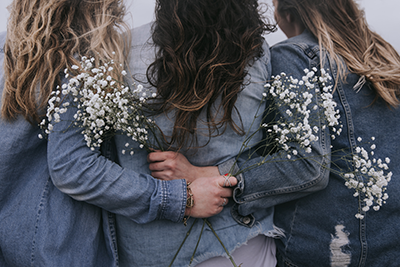 Celebration Circles are a beautiful way to honour special occasions.  Whether it be a milestone birthday, transitioning into or out of a partnership or at the cusp of motherhood, sharing sacred space with one's sisters creates meaningful and memorable experiences.
The circles I offer are designed to make the woman of the moment feel cherished, nurtured and adored. 
They remind her that as she enters the next phase of her life, she is surrounded by a community of women who support her.  They are heart-centred gatherings infused with positive story-telling, beautiful rituals and nourishing connection for all who attend. 
Each celebration is custom made with the guest of honour's preferences and personality in mind.  The day may include, but is not limited to:
Creating a sacred centre-piece with crystals and flowers.
Selecting guidance cards.

Guided visualisation.

Wisdom sharing.
Love notes for the guest of honour.
A crystal gifting ceremony.

Pricing:
$400 (AUD)
A non-refundable deposit of $100 is required to confirm your booking.
The cost includes:
Unlimited phone/email communication between myself and the organiser/(s) to discuss the tone and format of the celebration circle.
Unlimited guests.
All materials for the centre-piece, including flowers.
All materials for the gifting rituals, including crystals.
Up to a 3 hour ceremony.
Travel within 30km's of 2914 postal code.
A gentle, accessible yoga practice can be added to the gathering.
Kerry's circles are powerful tools for reflection, connection, rejuvenation and self-care. She's an excellent facilitator, so nurturing. 
Diane
I absolutely adore facilitating these magical circles.
They are filled with, and fuelled by so much love.
If you'd like to find out if they may be just what you're looking for, email me HERE and I'll get back to you shortly.
I cannot wait to connect!